Exciting exploration and research still continues. It will be possible to make industrial designs with new trials.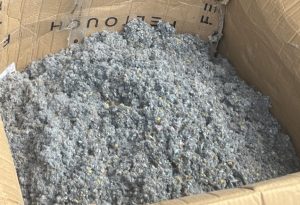 We shredded the Mandarin fabric plate waste covered on natural felt in the crushing machine to recycle it. The shredded material became finer and closer to fiber. We tried mini molding with this material.
In our first experiment, we tested the effect of temperature and pressure. In the second experiment, we increased the mosaic rate by using more Mandarin fabric waste while increasing the temperature and pressure.
photography by Necmi Çıran